Charles Oropallo's background growing up was in electronics.
It was not a huge leap that in late November 1977, Charles Oropallo authored and implemented what, at that time, was referred to as an online Bulletin Board System (BBS). Charles called it Access-80. The Access-80 BBS operated on a modified Radio Shack TRS-80 Model I, Level II microcomputer. There were only a handful of such systems online for public use on the entire planet when Charles put up Access-80.

Charles Oropallo founded what would ultimately become CharlesWorks® in June of 1998. Charles wanted to provide reliable and affordable hosting solutions for small business owners and operators. At that time, Charles was only providing Internet connectivity for several personal websites at very low speed.

Over time, Charles's desire to provide reliable (as well as still being affordable) Internet solutions moved CharlesWorks® into much more commercially oriented markets. Charles still helps individuals get personal sites on the web.

Let the CharlesWorks® full time web staff get you out here onto the web with your own web site today! Visit CharlesWorks.com for an affordable solution coupled with the best customer service in the field.

To get you started, CharlesWorks® offers ..com, .info, .name, .net, .org, and .us domain names with full privacy for as low as $15.00 per year!

Call CharlesWorks® today at 603-924-9867 or email Websites@CharlesWorks com to see how easy it is to get started!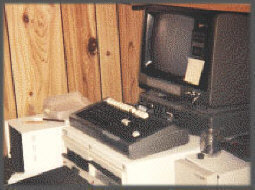 The original Access-80 on a Radio ShackTRS-80. Photo by Charles Oropallo.
Charles Oropallo wrote a host program in Z80 assembly language and a bulletin board system (BBS) program in BASIC that ran on this TRS-80 system. The message handling program he named "email" (and even though he was not the first to use it, Charles still very much wishes he had registered the term email with the United States Trademark and Patent office).

The purpose of Charles Oropallo's Access-80 BBS was to provide a personal messaging system for local computer enthusiasts.
Access-80 was originally placed online in East Greenbush, New York with a 300 baud modem and home brewed auto answering device. As a frame of reference, today's telephone dial-up can run as fast as 53,300 baud. At that time, there were only a handful of such systems available for anyone with computers and modems to dial in to.

Shortly after, Access-80 was concurrently placed online in Schenectady, New York.

In 1982, Charles Oropallo moved from the Albany, New York area to Nashua, New Hampshire, and so did Access-80. Charles's original Nashua Access-80 setup is shown above.

It was not long before it was concurrently online in Londonderry as well as Nashua. Access-80 remained online until 1987.
CharlesWorks can make your web presence happen for you! A typical small business web site is hosted for only $19.99 per month.
There are other more robust packages and products offered as well for our larger clients.

Contact us at 603-924-9867!